Anglesey council head to stay on in £270,000 job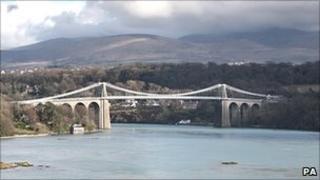 The interim managing director brought in to run a crisis-hit local authority is to stay on in the £270,000 a year job for the foreseeable future.
David Bowles was appointed head of Anglesey council last year, initially for 12 months.
The appointment followed an auditor general's report saying the council had "serious persistent problems".
The Welsh Assembly Government has now confirmed Mr Bowles will continue in the role.
When he was appointed, the then local government minister, Dr Brian Gibbons, admitted hiring the non-Welsh speaker in the position was an "issue".
But he said exhaustive inquiries had failed to identify a person of equal calibre who could speak Welsh.
The appointment angered the Welsh-language pressure group Cymdeithas yr Iaith Gymraeg, who called it a "terrible shame".
The assembly government said a clause of a possible extension of up to a further year was included in Mr Bowles' initial contract.
They will now be granting that extension, despite saying in August last year that the appointment was for 12 months only.
A spokeswoman said: "The then minister designated Mr Bowles as interim managing director on 12 August 2009 for one year, with an option to extend that for up to a further year.
"Last month we formally notified the council that we were exercising that option, simply so that Mr Bowles could continue in post for the time being.
"In doing so we were absolutely clear that Mr Bowles could still choose to leave at any point in the coming year, or that the minister could choose to designate someone else."