Speed ticket refund for drivers on Gwynedd road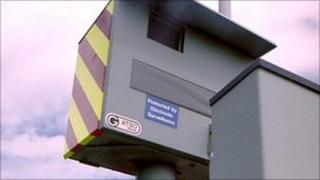 Nearly 200 motorists who were fined a total of more than £11,000 could all be reimbursed after a 30mph speed limit was wrongly imposed on a Gwynedd road.
Drivers were caught in the speed trap on the A499 between Caernarfon and Pwllheli, while roadworks took place.
The 30mph limit was imposed by Gwynedd council, near Clynnog, in December 2008, but a court found that it had not followed the proper procedures.
The council said refunds would be considered on a case by case basis.
North Wales Police said 191 people had been issued with fixed penalty notices and fined £60 each, but 59 drivers had taken the option of a speed awareness course instead of being issued with penalty points.
A Gwynedd council spokesman said: "The council accepts that the position taken by the Crown Prosecution Service in respect of the temporary traffic order made in December 2008 imposing a 30mph limit on the A499 in the Gyrn Goch/Trefor was appropriate.
"However, there remained in force during that time a preceding order also imposing a temporary 30mph speed limit on the A499 in the same area.
"Consequently it is understood that the status of any penalties imposed for breaking the speed limit on this particular stretch of road will be considered on a case by case basis only. The council's response to this matter will be in partnership with the police and other relevant agencies."
It is understood the DVLA will scrap the points incurred by motorists following the court ruling.
A North Wales Police spokesman said: "North Wales Police accepts the court's ruling. Plans are afoot to repay the fines and we have been identifying those who were given an invalid ticket and are working to contact them."