Travellers settle on new nature reserve in Denbighshire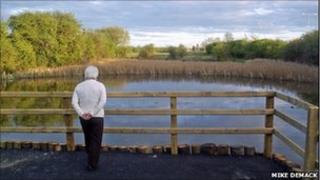 A council says it will "monitor and assess the situation" after a group of travellers settled at a nature reserve.
The travellers are based on a new site at Rhuddlan, Denbighshire, which has yet to be officially opened.
The site was once earmarked as a recycling centre, but is now a wildlife haven with more than 7,000 newly-planted trees.
Denbighshire council said there were "guidelines" to be followed.
In a statement, the local authority said: "We are aware that there are travellers on the nature reserve site at Rhuddlan.
"There are national guidelines in place, issued by the Welsh Assembly Government that we must now follow.
"We will need to send education social workers and social services representatives to the location - to assess the social welfare needs of individuals.
"Once this has taken place, there will be a meeting to identify what the next steps will be.
"The council will continue to monitor and assess the situation."