Muslim to turn Wrexham Miners' Institute into mosque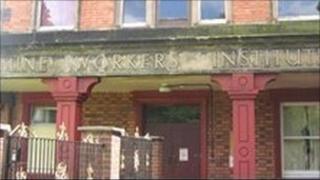 The Muslim Association of Wrexham has bought the town's former Miners' Institute.
The building will be used as a mosque for Friday prayers, as well as a centre for educational and cultural studies.
The deal brings to an end a 20-year search for a permanent base for the association, which used to hold prayer meetings in portable buildings at the former North East Wales Institute.
The Miners' Institute closed in 2008 after a drop in members.
Dr Ikram Shah, chairman of the Wrexham Muslim Association, said: "We can confirm that we have bought the former Miners' Institute to provide a community and cultural centre for the Muslim community of Wrexham.
"The deal was completed on Friday, 27 August, 2010.
"The place will be used for religious, educational and cultural studies."
Dr Shah said he was pleased the association had found a permanent home, 20 years after it was formed.
He confirmed the building would be used as a mosque, but said that would be just a "small part of it".
He added: "We wish to thank the local faith groups specially the Wrexham churches and community in general for their support."