Mobile cell aims to deter north Wales young from crime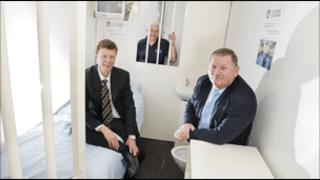 A replica prison cell in a converted trailer is being used to dissuade young people from a life of crime.
Built by inmates at a Liverpool jail, the mobile cell is being displayed at events across north Wales so under-18s can see what life in a jail is like.
The scheme is being run by the North Wales Criminal Justice Board (NWCJB).
"The beauty of this scheme is that it is paid for by the proceeds of crime snatched off offenders," said Mike Mullis, of the NWCJB.
The North Wales Police and Community Trust (Pact) funded the project using money confiscated from criminals.
"This is justice in action," said Mr Mullis.
He added: "It's allowing us to engage more with young people and other members of the public so they can see for themselves what life is like in a cell."
Councillor Ian Gunning, who represents the North Wales Police Authority on Pact, said: "I'll be very interested to see the reaction of young people to finding out what life is like really behind bars - it's a very small area, very claustrophobic.
"The police authority is looking at a consultation process with young people and I think the mobile prison cell will be an integral part of that process.
"We'll be taking them through what it's like when you're arrested, what it's like when you're charged, what it's like when you're attending court with a mock trial and eventually what it's like when you're locked up in prison."
The trailer was supplied by the Denbighshire-based company, Ifor Williams Trailers.