Celebrations to mark The Marble Church's 150th year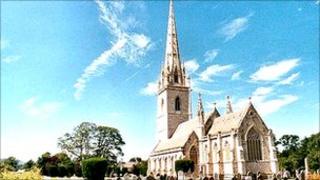 A weekend of celebrations is taking place to mark the 150th anniversary of a Denbighshire landmark church.
Completed in 1860, St Margaret's Church in Bodelwyddan is also known as The Marble Church because it displays 13 different types of marble.
It was built in memory of Henry Lord Willoughby de Broke by his widow Lady Margaret, at a cost of £60,000, which is said to have bankrupted the family.
Descendants of Lady Margaret were expected to attend a service on Sunday.
The foundation stone for the church which was formerly part of the Bodelwyddan Castle estate was laid by Lady Margaret in 1856.
The church was consecrated by the bishop of St Asaph on 23 August 1860.
Among the different types of stone used in its construction is Belgian red marble in the pillars, and Anglesey marble was used to build the nave.
With a tower and steeple standing 202 ft (62m) the church is a tourist attraction and can be seen for miles.
Celebrations start on Friday, with a four-day flower festival at the church, and a photographic and slide exhibition showing Bodelwyddan as it was 150 years ago.
On Sunday, descendants of the church's founder were expected at a special service taking place there.
Refreshments and a hog roast will be served throughout the day, and there will be a songs of praise service at 1800 BST.