Wrexham nurse clocks up 50 years, and is still working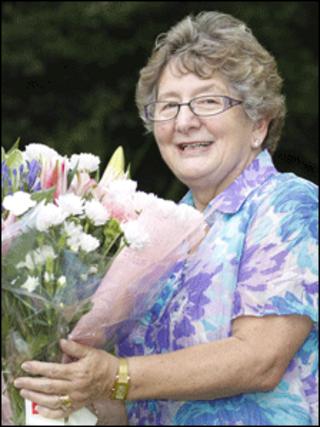 A 68-year-old woman who is still working after 50 years of nursing has welcomed UK government plans to cut the fixed retirement age.
Mildred Hayward, who runs Wrexham's Hillbury House Care Home, said she has no plans to quit.
She said: "I think the new law would be a good thing. Why should people retire at 65 if they are able to carry on?"
Under new proposals, from October 2011, employers would be unable to dismiss staff because they had turned 65.
Ms Heyward said: "I like working here because I love caring for people.
"I have to have an assessment every 12 months for my nurse's registration, and I will be renewing mine in December.
"I haven't really thought about retirement. The job gives you motivation and it stimulates the mind.
"My husband is 67 and he drives the minibus, so we're both working past retirement age."
Ms Heyward's interest in nursing began as a girl growing up in Cefn y Bedd, and she joined the Red Cross and volunteered at Wrexham's Maelor Hospital.
In the next few years she started a pre-nursing course at Denbighshire Technical College, and worked as a cadet at Chester Royal Infirmary and Wrexham's War Memorial Hospital before completing her training in 1963.
She arrives in her office at 0815 most mornings, usually working until 1730.
She said: "I couldn't stay at home all day doing housework.
"I like being active. My husband says I'll still be working when I'm 70. I just go from year to year."
Mario Kreft, of the Pendine Park care organisation, which runs Hillbury House, said: "She is a shining example for people starting out in the care profession - she is the Queen of nurses."