'Cowardly' burglar jailed for Rhuddlan pensioner attack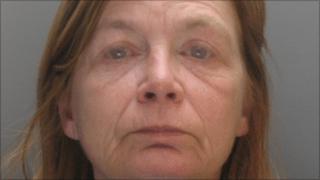 A burglar has been jailed for three-and-a-half years after she attacked an elderly couple in their home in Denbighshire
Burglar Maureen Cunniam had taken a "potent cocktail" of alcohol, antidepressants and painkillers, Caernarfon Court heard.
Doris Cook, 87, was hit a four or five times to the head with a heavy wooden bat. Her husband was also struck.
"A more cowardly attack can hardly be imagined," said Judge Neil Bidder.
Caernarfon Crown Court was told that the attack happened at the pensioners' terraced cottage in Rhuddlan last April.
Borrow money
Cunniam, 49, had visited the Cooks earlier in the day seeking to borrow money, and was given £2. The attack happened after she called at their home again.
Mrs Cook suffered a broken wrist and a fractured bone in her hand, needed eight stitches in two cuts on her scalp, and her hearing was affected.
Prosecutor Karen Mullin said Eric Cook went to his wife's aid after hearing her screaming in their front room and found her lying on the floor, with her head covered in blood.
He wrestled the bat from Cunniam but could not bring himself to hit her, she said.
Cunniam, of Rhuddlan, kicked him in the groin and while he was sitting on a chair she rushed forward and grabbed the bat again. She raised it above her head and brought it down on Mr Cook's head.
She then rifled through a chest of drawers, took money from a bowl, and left the house.
Cunniam told police she was "full of alcohol" and had been taking prescribed medication.
Judge Neil Bidder QC said: "Cunniam had suffered from cancer and this had undoubtedly contributed to her alcohol dependency."
She admitted aggravated burglary, wounding and assault causing actual bodily harm.