Royal Welsh Show: Brexit 'seismic shock' farming warning
By Steffan Messenger
BBC Wales Environment Correspondent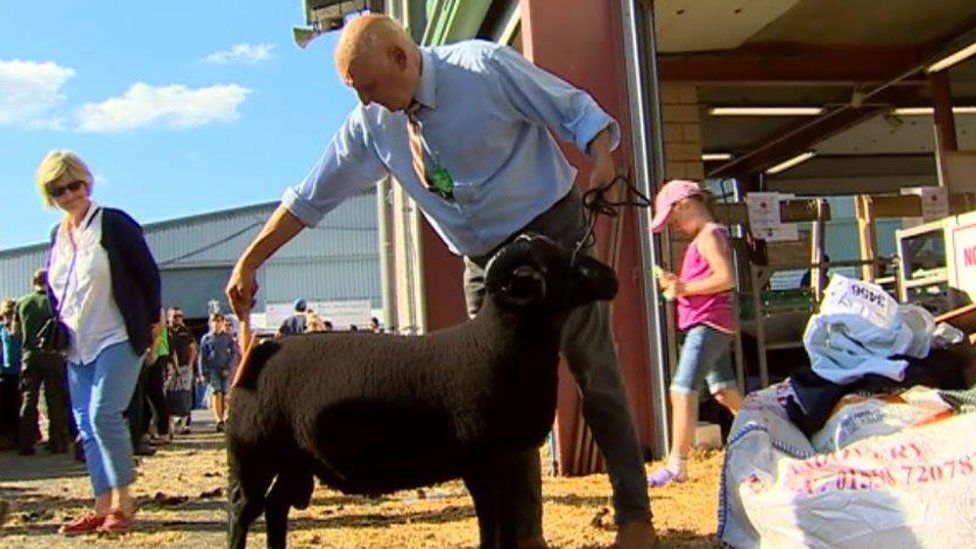 A no deal Brexit would cause a "seismic shock" through the Welsh farming industry, an industry leader has warned as the Royal Welsh Show got under way.
Meat Promotion Wales' chairman said imposing any tariffs would be catastrophic for Welsh red meat exports, with 90% going to the EU.
Brexit is expected to dominate the show with UK Environment Secretary Michael Gove attending.
The show started in Llanelwedd, Powys on Monday.
The UK government recently published its Brexit white paper proposing a "free-trade area" for agri-foods, with both sides sharing a common rule book.
But the plans have been questioned by the EU's Brexit negotiator Michel Barnier and sparked two cabinet resignations at Westminster.
"Tariffs at any level would be a tourniquet on trade - and the unthinkable, a no deal Brexit would be catastrophic for our stakeholders," Meat Promotion Wales chairman Kevin Roberts will say in a speech to industry leaders.
"To be blunt, in that scenario there would be no European exports."
Meanwhile, Wales' Rural Affairs Secretary Lesley Griffiths described it as "the most important" Royal Welsh Show in years.
It will be the last time the annual showcase of rural life is held before the UK leaves the EU in March and five UK cabinet ministers, including Mr Gove are expected to attend.
Ms Griffiths said she would use her meeting with Mr Gove to press him about how much funding would be allocated to Wales for agricultural support after Brexit.
Farmers' leaders in Wales campaigned for remain in the referendum and Welsh farmers currently receive around £300m a year in subsidies as part of the EU's Common Agricultural Policy (CAP).
Ms Griffiths said the UK government needed to "urgently confirm" that Wales would maintain its current share of funding after the UK leaves the EU.
Part of the reason for this is it is consulting at the show on proposals for a shake up on how support is delivered to be phased in from 2020.
Two new funding schemes - one offering business grants, the other paying farmers to deliver public goods - will replace the direct subsidy farms receive based on how much land they have.
Ms Griffiths said it was an opportunity to "forge a new consensus on the role of farmers in Wales".
"The way we manage our land matters, especially if we are to produce outcomes of importance to everyone in Wales," she said.
"The current CAP does not help us to achieve these outcomes and is not designed to realise the full value of the land."
Meanwhile, Ms Griffiths announced a five-year, £9.2 million red meat development programme to improve competitiveness and help Welsh farming with animal health, genetics and meat quality.
As the show got under way, farmers' unions including the NFU and FUW have called for an emergency summit on the impact of the ongoing dry weather on their businesses.
Ms Griffiths said she will find time for this during the show.