Girl's sore knee ends in amputation after cancer scare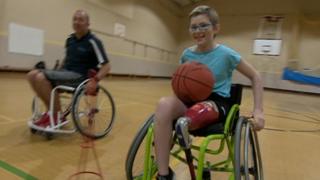 When 11-year-old Mia Lloyd complained to her mother about a sore knee, she thought it might be a sports injury.
Three weeks later, when she started limping, alarm bells started to ring for her parents Emma and Eurig.
A doctor diagnosed an osteosarcoma - a form of bone cancer - which was to lead to the amputation of her left leg.
Mia, from Penparc, Ceredigion is currently free from cancer after several lifesaving operations and four months of intensive chemotherapy.
Now the Lloyd family are urging parents to be vigilant for signs of sarcoma, one of the most difficult cancers to diagnose.
Sarcoma is a cancer of the bone and soft tissue which can develop anywhere in the body.
Osteosarcoma usually develops in growing bones and is most common in teenagers and young adults.
The majority of people are not diagnosed until their sarcoma is the size of a large baked bean tin, say Sarcoma UK.
Although survival rates have crept up slowly, the outlook for people diagnosed with sarcoma remains challenging with the five-year survival rate at 55%.
You might also be interested in these too:
GB curler Angie Malone on training through cancer treatment
How beating cancer set Will Bayley on path to table tennis success
From radiotherapy mask to brave superhero
Figures released as part of Sarcoma Awareness Week indicate that 5,300 people suffer from the disease every year across the UK.
In Wales, the latest figures available - from 2015 - show that around 285 people suffered from sarcoma cancer, with five cases of osteosarcoma.
For Mia's mother, Emma Lloyd, the diagnosis came as a shock.
"She first told us that she had a little pain, or a niggle I suppose, in her left knee.
"She was so active and ran competitively. We thought it was a sports injury."
When they consulted Mia's GP, however, she was immediately sent for an x-ray.
"Within 24 hours, we were called to say there was something substantially wrong with the images," said Mrs Lloyd.
The tumour had also spread to Mia's lungs.
Mia was faced with two difficult choices for surgery.
The first would have saved her leg but would have meant the loss of her femur and left her unable to participate in sports.
The second was to remove her left leg completely, but still leave her able to take part in sports with the aid of a prosthetic leg.
Mia took the second option and now hopes to take part in the Paralympics.
"I do paracycling, wheelchair basketball, I do a bit of swimming."
Mrs Lloyd is urging parents to look out for persistent symptoms of pain.
Mia's father, Eurig Lloyd, admitted they knew little about the disease.
"When the word cancer was mentioned we knew it was serious. It was a big shock, especially for a young girl.
"If injuries keep coming back, people need to go to the doctor and get it checked out," he said.
Emma Lloyd says her daughter's bravery continues to be an inspiration.
"The bone in her leg wasn't up to much but there's nothing wrong with her backbone."