Escapee boa constrictor found under bed after police hunt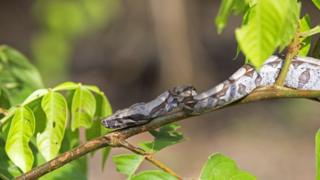 An escaped boa constrictor which sparked a police search was found just an hour later - under its owner's bed.
The 5ft (1.5m) snake was reported missing in Cwmgiedd, near Ystradgynlais, Powys, on Tuesday.
It led to police warning people to keep their doors and windows shut to stop the slippery reptile getting in.
Snake expert Geraint Hopkins said: "The snake was found coiled up - the second time we checked under the bed."
The snake was unhurt.
Boa constrictors are non-venomous ambush predators that kill by squeezing the life out of their prey and can reach up to three metres (10ft) in length.