Missing boa constrictor prompts 'shut your door' warning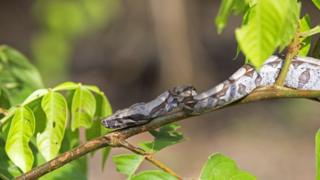 A boa constrictor has gone missing from its home, prompting police to issue a warning to people in the area.
The 5ft (1.5m) long black and silver reptile slithered away from an address in Cwmgiedd, near Ystradgynlais, Powys.
Ystradgynlais police tweeted a warning to people, urging them to keep windows and doors shut and their pets indoors.
Boa constrictors are non-venomous ambush predators that kill by squeezing the life out of their prey and can reach up to 3m (10ft) in length.
Dyfed-Powys Police urged anyone who spots the animal to call 101.