Wildfire smoulders in Aberystwyth after burning for three days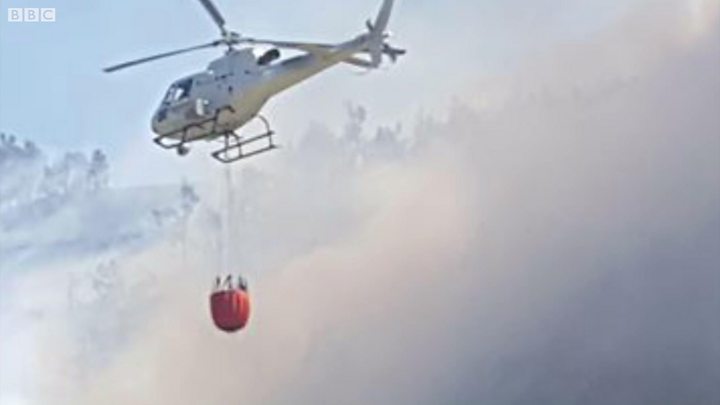 Firefighters will return to the site of a large wildfire in Ceredigion on Friday to monitor the land after battling for three days to put it out.
Mid and West Wales Fire and Rescue Service said the blaze at Cwm Rheidol was out by 22:00 BST on Thursday but some "hot spots" remained.
Officers were sent there on Tuesday and a helicopter was needed to drop water.
The fire broke out amid sweltering temperatures across Wales but the cause has not yet been established.
Some "hot spots" remain but at one point, 28 firefighters were on the scene and specialists in wild fires joined the battle after wind caused it to worsen.
The helicopter unloaded 1,000 litres of water per drop - similar to what a fire engine carries in its tank - and dropped about 20 loads an hour on Thursday.
The flames caused the Vale of Rheidol Railway line to close, but the blaze was not near any homes and no properties were evacuated.
Mid and West Wales station manager Neil Evans said: "They've extinguish most of the fire, it's probably the second time we've extinguished the fire but what we've got is very difficult terrain in a wooded area with deep cliffs where its inaccessible for firefighters.
"That means we have hot spots remaining within the burnt area and what we saw happening yesterday was that the winds were swirling and carrying these embers into the dry areas along the valley and it reignites."
"What we've got now is a watching brief where officers will attend periodically to check the area and try to identify any small flare ups as early as possible and stop it becoming a ;arge fire as we saw yesterday.
Meanwhile, crews from South Wales Fire and Rescue Service helped tackle a large fire at Saddleworth Moor in Greater Manchester where soldiers were drafted in to assist.