Fire near Aberystwyth continues to burn amid heatwave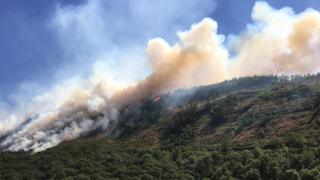 A large wild fire in Ceredigion is continuing to burn as temperatures soar across Wales.
Mid and West Wales Fire and Rescue Service said 28 firefighters were tackling the wild fire at Cwm Rheidol on Thursday evening, using hose reels and beaters to fight the fire.
Earlier, a helicopter had also been dropping water at the site of the blaze.
Officers were first sent to the blaze near Cwm Rheidol on Tuesday.
The fire broke out amid sweltering temperatures across Wales. The heatwave is expected to last until the weekend.
Specialists in wild fires have been deployed to the scene in Ceredigion after wind caused the fire to worsen.
Kimberley Moseley, who lives in Cwm Rheidol, said she had been watching a helicopter drop more water on the fire on Thursday afternoon.
"It's like trying to put out a bonfire using a teaspoon of water, it's unbelievable," she said.
"It's quite frightening, the scale of it. It's taken out the pine and the larch like paper."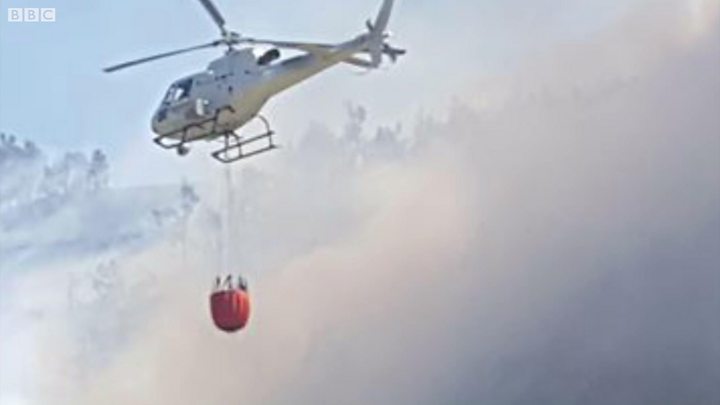 The flames caused the Vale of Rheidol Railway line to close.
Mid and West Wales Fire and Rescue said the blaze was not near any homes and no one has been evacuated.
The Met Office recorded a temperature of 32.6C (90.6F) in Porthmadog, Gwynedd, on Thursday making it the hottest part of the UK for the second day running.
The highest June temperature recorded in Wales was 33.7C (92.7F) in 2000.
The cause of the fire is not yet known.