Queen's Birthday Honours 2018: Brecon Army explorer awarded MBE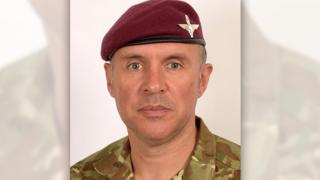 A Powys-based Army captain who is planning to become the first person to ski unaided across Antarctica has been appointed an MBE.
Capt Louis Rudd, 49, who is based at Dering Lines, Brecon, has been rewarded for his "outstanding leadership and determination".
He has served in the Army for 33 years and had postings across the world.
He was given the news on return from an expedition across Greenland and said he was "over the moon".
"I led a team of six on a 560km (348-mile) crossing of Greenland with no sort of access to phone or email, so I got the call telling me I have been awarded on the way back.
"It was a nice way to finish the expedition."
Capt Rudd, who is the motor transport officer at the Infantry Battle School at Dering Lines, has been skiing with the Army for seven years and is aiming to complete the 1,100-mile (1,770km) in honour of his friend Henry Worsely, who died attempting the trip two years ago.
His citation reads: "Such was the quality of his leadership, his humility and enthusiasm, his team mates held him in particularly high esteem and would have done anything for him.
"His physical and emotional investment in the expedition has been the culmination of his long and dedicated service as a soldier."