Ceredigion fire-hit nursery to reopen after £500k renovation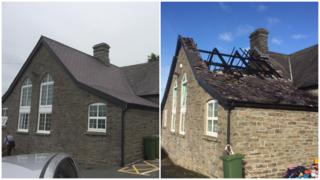 A nursery school devastated by a blaze last autumn is preparing to re-open after a £500,000 renovation.
Fire ripped through the Y Dyfodol (The Future) site at Cellan near Lampeter, Ceredigion, in October last year.
There were 200 children on the nursery's books at the time and their parents had to make alternative care arrangements.
Owner Dwynwen Davies said she would be "ecstatic" when the doors re-opened to children next week.
She said she was prevented from opening the nursery at a temporary location in the village hall at Cellan because of inspection regulations.
She feared the business might have to close because of the impact of the fire, adding: "I honestly thought I would have to put my hands up and say enough is enough.
"There was massive damage. Not only from the fire but from the water used by the firefighters.
"We had 200 children on the books, so overnight the children had no childcare, so it had a massive impact on the whole area."
The nursery held an open day on Bank Holiday Monday, and will be reopening next Monday.
"I will be ecstatic. This is my niche in life and to be able to welcome everybody here and giving the best childcare I can will make me whole again," Ms Davies added.
"If I hadn't have had the support and love from the local community I wouldn't have reopened. I was on the floor."
Emma Owens, a new parent at the nursery, said her son Monty will be attending on Monday.
She said: "It's amazing. I can't believe how much work they've done in such a short space of time.
"It's super important for parents who want to go back to work. It's vital."