Injured Powys farmer Roger James warns on safety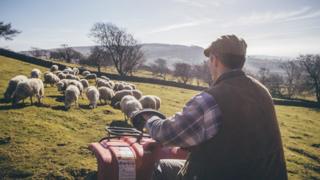 A farmer injured in a quad bike crash is campaigning to reduce the number of serious accidents on farms in Wales.
Roger James, from Powys, was left unable to work for two years and is planning to retire early because of ongoing pain from the injury, which was sustained in 2009.
He broke his pelvis when he came off his quad bike on a steep incline at Pistyll Gwyn Farm, Llanyre.
The 58-year-old encouraged others to focus on doing one job at a time.
He is working with The Wales Farm Safety Partnership (WFSP), a collaboration between organisations representing the industry, to reduce workplace accidents.
It said there has been 388 deaths in the sector in Britain in the last decade.
Mr James said: "Safety conscious wise, I should have been concentrating more on the machine.
"You are trying to multi-task. You are looking at the cows, looking at the grass and, at the same time, using a machine."
And statistics compiled by the Health Safety Executive showed 24 fatalities in agriculture, forestry and fishing in Wales since 2010.
Mr James told BBC Radio Wales' Good Morning Wales programme: "There is no use looking back and wish you hadn't done this and that.
"You have to move forward and make the most of what you've got."
Advice group Farming Connect is holding awareness events at Coleg Glynllifon in Llandwrog, Gwynedd, and at Coleg Sir Gar's Gelli Aur campus in Carmarthen.
Practical demonstrations include the safe handling of livestock, working at heights, operating all-terrain vehicles and farm machinery, as well as handling dangerous chemicals.