Coelbren residents fear being 'cut off' by bus service axe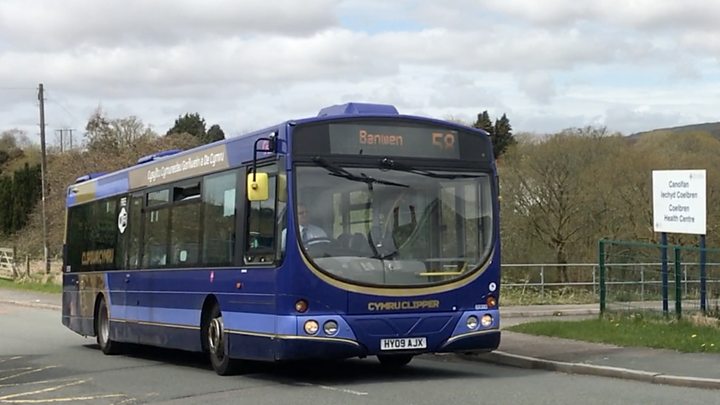 A village in Powys is to be "cut off" due to the loss of a bus service, according to its residents.
The number 58/X58 service from Swansea to Banwen will not stop in Coelbren from 27 May.
Residents are also unhappy that they will have no way of getting to the nearest GP which is three miles away (4.8km) in Seven Sisters.
First Cymru, which runs the service, said it was not viable without additional funding.
"There's a lot of people who do use the buses who won't be able to go over to a local shop, or even to a chemist or to a doctors," said resident Elaine Evans.
"It's like cutting off a whole village because now we haven't got a shop, the surgery's closed, the school is closed.
"There is nothing up here."
Another resident Dennis Ingleton, said: "I go on the bus to get a paper every day and if this bus stops, everybody's going to lose out."
Coelbren's Health Centre opened in 2012 but closed last year, after the local health board struggled to recruit a GP.
Patients have to go to Seven Sisters for appointments but will find it more difficult without the number 58 service.
A First Cymru spokesman, said: "We were unable to operate the service reliably without adding additional resource, which have made the whole service unviable due to the additional cost this involves.
"We have been working with the local authority to find a solution, but we were unable to do so and we had no option but to withdraw this section of the service."
Transport Secretary Ken Skates asked Bus Users Cymru, Welsh Government officials and Powys council to hold a public meeting in Coelbren last month.
A Welsh Government spokesman said: "The purpose of the meeting was to gather comments from local residents about the effects of First Cymru's decision to withdraw from running services to and from the village.
"Bus Users Cymru collated the evidence and have been asked by the Welsh Government to work with Powys and Neath Port Talbot Councils to develop proposals for an affordable solution which would meet as much of the residents' requirements as is possible."
Brecon and Radnorshire MP Chris Davies called the cancellation "extremely concerning".