Women emerge from estate's history in new exhibition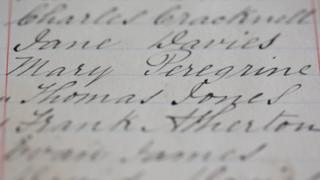 Imagine labouring in the fields doing the same job as the person next to you, knowing they are earning nearly twice as much as you.
Then imagine you are the sole provider for your family, just like the worker next to you.
Unjust? Yes, but completely normal when the poorly paid worker was a woman in the early 1900s, widowed with a child, but not recognised as head of the family.
This was life for Mary Peregrine, who worked as a farm labourer at the Llanerchaeron estate in Ceredigion, and whose story is being shared as part of the estate's Petticoats of Power exhibition to mark 100 years since some women were granted the right to vote.
The National Trust-run villa near Aberaeron wants to highlight the lives of the women who have worked on the estate during its 400-year history.
Staff said they were conscious the estate's story has been told largely through the men who owned and inherited the estate, but there were many women who had been integral to its survival.
Rachael Hedge, house steward at Llanerchaeron, explained: "Petticoats of Power has been created not to compare men and women, but to highlight the powers harnessed by our women who worked alone or with their partners to look after Llanerchaeron over generations.
"Despite not owning the land in their own right, without these women and the strength they possessed, it is likely Llanerchaeron wouldn't be what it is today."
It was thanks to Corbetta Williama Lewis, nee Powell, that the villa at the heart of the estate was built.
Her £5,000 dowry from marrying Llanerchaeron heir William Lewis in 1786, enabled the couple to commission architect John Nash, who went on to design Buckingham Palace, to replace the existing farmhouse with a Georgian villa.
Their daughter, Eliza Lewis, went against the social conventions of the day to break away from an unhappy marriage to William Lewes, of Llysnewydd, Newcastle Emlyn.
She was granted a deed of separation in 1828 and, unusually, had custody of her three children. She returned to Llanerchaeron to raise them, with her brother John Lewis as guardian.
Their close relationship was demonstrated when Mr Lewis left the estate to Eliza and her two daughters, rather than her son, his nephew, a remarkable decision for that time.
However, it was another woman who was to have the longest impact on the estate.
Although Eliza Lewis owned the estate. John's wife Mary Lewis, nee Mettam, who was left widowed and childless aged 42 when he died, was named by John Lewis as a tenant for life as long as she never remarried, and the person who was to run the estate.
Mary, originally from Leicestershire, proved to be a welcome addition to the estate. She was renowned as a considerate employer who looked after her staff during her long stewardship of Llanerchaeron, as seen by testimonials from workers dating from the period.
This 1913 dedication read: "The reputation which you have acquired in the discharge of your public duties as a large landed proprietor has been well sustained by the great respectability of your private character. Your name will remain in mid-Cardiganshire for a very long time and will be ever mentioned with sincere affection."
As she was not the owner, Mary was not able to make changes to the estate or the house, preserving it in the same condition for decades.
She donated the land for a school in Aberaeron and continued to live on the estate for another 62 years, until her death at the age of 104 in 1917.
Her namesake, Mary Peregrine, who was so unfairly underpaid, worked at the estate during the later part of Mary Lewis's stewardship.
Her working life was hard, often doing 13 days non-stop, with only one day off before starting another 13-day cycle.
Mary lived with her daughter near the estate until her death in 1921.
Another single mother documented in the exhibition from the same period was Margaret Price, one of the few women who worked as a gardener from the 1890s.
She supported her daughter and also her grandson.
Because of her gender, Margaret was only allowed to do the more menial tasks and like Mary Peregrine, her pay was low.
Her daughter worked as a laundry maid and between the two of them they managed to afford their living expenses.
Gwenno Griffith, communications officer with the National Trust, said the exhibition had come about after a realisation that they were missing important parts of the estate's history.
"We realised that... it was the stories of the men we were focusing on," she explained.
Following an exhibition last year entitled Ladies of Llanerchaeron, which examined stories such as Mary Lewis, archivists uncovered many more female voices from the past.
"We found out there were some wonderful stories out there that we weren't telling."
Part of the display will see a petticoat specially designed for the exhibition unveiled and visitors will be invited to share the names of powerful women who have inspired them in their own lives.
These will be embroidered on to the garment over the course of the six-month exhibition.
Petticoats to Power opens on Monday 7 May and runs until 7 October.