World War One poppy curtain unveiled at Royal Welsh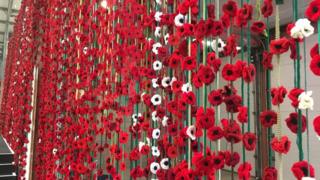 A curtain of poppies commemorating the work of women in World War One has gone on display for the first time.
Thousands of knitters from across the world helped to make more than 65,000 "flowers".
Organisers said the installation at the Royal Welsh Showground in Builth Wells, Powys, recreated the "determination of the women at home" during the war.
They supported troops overseas by knitting gloves, scarves, balaclavas and socks.
Poppies from knitting groups, schools and individuals were strung together to create the curtain and flowers were sent in from as far afield as North America.
Jane Veevers, who organised the exhibition with her mother, Olwen, said among the contributions was one from a serving soldier who sent in a single embroidered felt flower.
A Curtain of Poppies will be on display at the Wonderwool Wales festival at The Royal Welsh Showground in Builth Wells this weekend before becoming a travelling exhibition.