Cyclist finds nail traps on forest path near Lampeter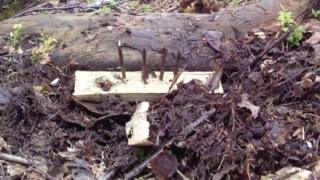 Nail traps have been found laid across trails in a wood in Ceredigion with handwritten messages left underneath.
Dyfed-Powys Police is investigating after the blocks of wood were discovered by a cyclist partially hidden by moss and leaves.
Lodge Wood near Lampeter, which is owned by Natural Resources Wales (NRW), is open to the public.
Messages on the traps read: "Ha Ha got you" and "keep to the footpath".
You might also be interested in:
They were found by Dr Roderick Bale who uses the woodland trails to cycle to work and for leisure.
Dr Bale said: "It would puncture your tyre. It would really cause injury to an animal or person who trod on it, really serious injury."
Dr Bale said he found broken glass strewn across the tracks two years ago and took the traps as "a way of trying to intimidate people".
He said it made him "a bit angry" but also said he found it "quite depressing that someone spends their time doing this".
"But I'm not going to stop using this woodland. We're lucky to have this on our doorstep," he added.
Huwel Manley, NRW operations manager, said the hazardous items had been cleared.
He said: "Sabotaging woodlands is incredibly dangerous and puts people and animals at risk.