Aberystwyth University: 100 jobs at risk due to cuts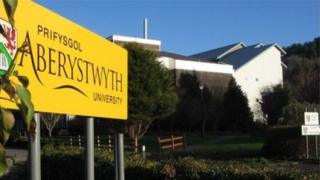 As many as 100 jobs are to be cut at Aberystwyth University as it tries to make £5.4m of savings next year.
In a letter to staff, seen by the BBC, Vice Chancellor Elizabeth Treasure reveals 100 out of 800 management and support jobs are under threat.
The letter says the plans would "secure Aberystwyth's long-term sustainability."
In April 2017, the University Council approved a plan to cut spending at the institution by £11.4m over two years.
When the plan was announced, the union Unison warned 150 jobs could be lost.
Cuts have already been made in academic departments, with 11 posts being closed in the theatre, television and film, education and biological, environmental and rural affairs departments.
These latest proposals would see cuts to management posts at Aberystwyth.
They include reducing the number of deputy vice-chancellor posts from 4 to 2, with an annual saving of £300k
The six current Institutes would be replaced by 3 Faculties/Colleges, with the initial loss of 5 FTE managerial posts, and 10.5 posts would be cut from restructuring Professional Services.
The history department is also facing losing 5 of its 16 teaching lecturers.
Unison has been asked to comment.