Dog saves newborn lamb 'frozen to ground' by Storm Emma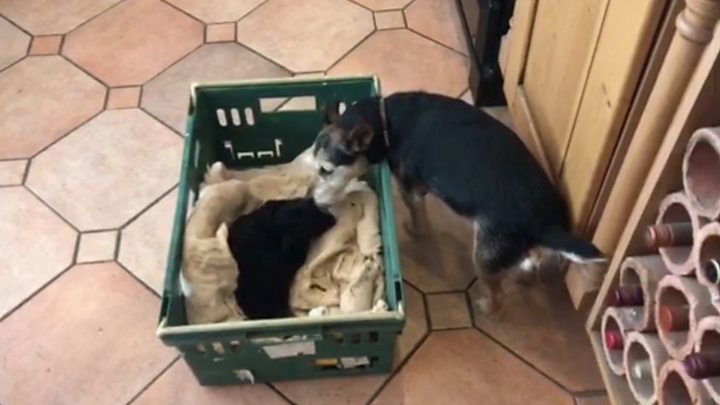 A newborn lamb "frozen to the ground" and left for dead is recovering after being saved by a pet dog.
Its mother had struggled to give birth to twins during Storm Emma, which had left the animal in freezing conditions.
Pip Samuel from Newbridge-on-Wye, Powys, found the lamb on land at his smallholding on Thursday morning and put it in his truck, believing it was dead.
However, his dog Freddie started licking it and it began breathing.
"As she gave birth to the second lamb in those conditions, the mother must have left it and it became frozen to the ground," said Mr Samuel, who has 45 ewes.
"I had to lever it up from the straw. Its joints were frozen and I assumed it was dead."
However, when Mr Samuel's terrier Freddie began licking the lamb, its stomach began moving and the smallholder realised it was still alive.
He put the newborn animal in a box by the fire, where the dog continued to help revive it, and also gave it a tot of whisky for good measure.
The lamb has now been reunited with its mother and Mr Samuel's grandchildren have named it Frieda in honour of the pet who helped save her.