Riversimple hydrogen car set for summer debut in Wales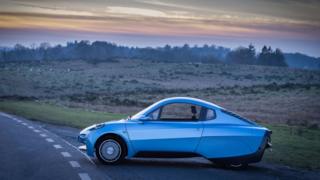 Real-world trials of a new Welsh hydrogen-fuelled car will get underway this summer, the company behind the vehicle has announced.
It comes as the Powys firm's founder joined a trade delegation to China, led by UK Prime Minister Theresa May.
Riversimple Movement, based in Llandrindod Wells, said beta tests on road-ready versions of its car will be held in Abergavenny in Monmouthshire.
Up to 10 of the cars will take part in a year-long testing phase.
It follows a first round of crowdfunding for the project, which raised £1m last year. The firm hopes to raise a further £1m in a second funding bid being launched in February, to match £1.6m invested by the EU.
A further £2m was given to the company by the Welsh Government in 2015.
The cars - which have been given the name Rasa - do 0-60mph (96kmh) in 10 seconds, with the only output being water.
A refuelling point is being placed in Abergavenny for those lucky enough to take part in the testing - more than 900 drivers have asked to be considered.
The trade delegation to China will be a chance for Riversimple to promote the hydrogen fuel cell technology and the cars it has developed, which it has claimed will be the greenest ever put into production.
Riversimple's founder Hugo Spowers said: "This trade delegation to China is a demonstration of commitment to cleaner mobility and we are proud to be presenting the case for hydrogen to play a major part in this."
If this summer's trials prove successful, the firm has said the next step would be to set up volume production in a factory employing 220 people.