'Funnel cloud' damages homes in storm at Pont Creuddyn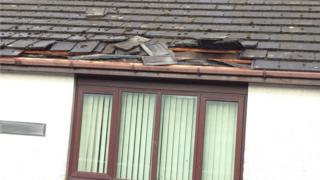 Two homes have been damaged after a thunderstorm in Ceredigion.
Powerful wind, which residents claimed looked like a tornado, struck Pont Creuddyn, near Lampeter, at 11:30 GMT on Thursday, after a flash of lightning.
Tiles came off the roofs of two houses, trees were brought down and a hedge was damaged.
A senior Met Office forecaster said residents had seen was likely to have been a funnel cloud.
One man said "it came out of nowhere" and that he watched as the swirling "tornado" full of leaves passed through the village.
He said he had "never seen anything like it" and within minutes the weather became calm again.
Weather radar showed up to 3cm (1in) rain fell in an hour, with winds gusts of up to 40mph (64km).