Lynx deaths prompts zoo closure call from Iolo Williams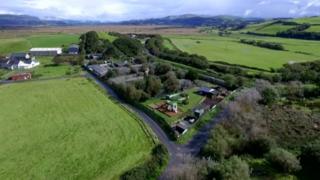 A zoo which has seen two of its lynx die must be shut down urgently "for the sake of the animals", wildlife broadcaster Iolo Williams has said.
A marksman shot one cat after it escaped from Borth Wild Animal Kingdom and another died in a "handling error".
Mr Williams said he had major concerns about the zoo, while TV presenter Ben Fogle said there had been failings.
The zoo has said it was making "vast improvements" and Ceredigion council defended shooting the escaped lynx.
Mr Williams, a prominent naturalist and conservationist, said: "It's just disastrous. The decision to shoot the first lynx, rather than tranquilize was a mistake.
"Darting should have at least been attempted.
"Both events raise major concerns about the way this zoo is being run, and the Wild Animal Kingdom needs to be shut down urgently, for the sake of these poor animals."
Mr Fogle, the newly appointed UN patron of the wilderness, called for "reflection" on the licensing of small zoos following the deaths.
"Two lynx have died in the course of a week and, I think, there are failings across the board," Mr Fogle said.
Ceredigion council said it sought expert advice before bringing in a marksman to humanely destroy Lilleth the lynx on Friday, sparking a backlash from the zoo's owners who had been trying to capture her with bait traps.
Lilleth is believed to have escaped after making a "giant leap" over an electrified fence.
On Monday, the zoo owners revealed a second lynx, Nilly, died when she became twisted in a catch-pole as staff tried to move her into a different enclosure ahead of a council inspection.
Asked about the licensing of small or hobby zoos, Mr Fogle said: "I think we need to look very closely at how we look after our creatures and there have been reports across the United Kingdom of private collections, open collections, that don't seem to be taking that responsibility seriously or fairly."
In an interview on Monday, zoo owner Tracy Tweedy, who bought the attraction with her husband, Dean, six months ago, said: "I don't regret buying this place because I know that despite all this we will make it what it should be.
"It is a sanctuary for animals and they should be here and be safe and the fact that we have let down two of our precious lynx is just horrific. There is no excuse," she said.
Ceredigion council said it was investigating the circumstances of the second incident and was unable to provide further comment.
The Lynx UK Trust, which is trying to reintroduce the animals in the UK, called for the zoo to be closed, saying the deaths were "unacceptable".
Its petition has attracted support from over 7,500 people.
Speaking of the animals' deaths, Jean Mumbray, the former owner of the zoo, said: "It was a great shock. Since I discovered what happened Tracy sent me an email telling me about Lilleth and then Nilly."
Mrs Mumbray and husband, Alan, ran the zoo for 17 years, until they retired in May with a three-month handing over period.
She explained lynx Nilly arrived at the zoo at three months old and had been partially hand-reared.
"The only reason I left her there was she was settled in fine into the enclosure," she said.
Mrs Mumbray added: "I don't want to see the zoo close."