Joshua Hoole: Army 'not at fault' for soldier's Brecon death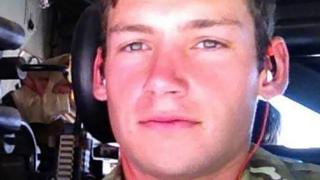 A soldier who collapsed on a fitness test in Powys died due to an unknown medical condition, a report has said.
Cpl Joshua Hoole, 26, of Ecclefechan, near Lockerbie, died on 19 July 2016 while training for the Platoon Sergeants' Battle Course in Brecon.
He had 25kg (55lb) of equipment on when he collapsed 400m from the end of the eight-mile (13km) course.
The cause of death is redacted, but was "within the definition of Sudden Arrhythmogenic Death Syndrome".
Col Jim Taylor said the Army lost a "determined soldier" due to a medical condition even Cpl Hoole was unaware of.
The Defence Safety Authority's Service Inquiry report said Cpl Hoole, a member of the Rifles regiment at ITC Catterick, was heard saying he was suffering from cramp just before collapsing.
An ambulance was called and a combat medical technician cleared his airways of a build-up of fluid and began CPR.
Army colleagues assisted treating Cpl Hoole until an ambulance arrived at 09:04, just over 10 minutes after he collapsed. He was pronounced dead at 09:39.
His medical assessment revealed no cardiovascular problems and the report said it was "unlikely" his condition would have been spotted.
In basic training, he was identified as "one of the fitter soldiers on his course".
Col Taylor said: "It is of absolutely no comfort whatsoever to us, or to Cpl Hoole's family, that the service inquiry's finding is that the Army did not cause the death of Cpl Hoole.
"Cpl Hoole had the courage, commitment and professionalism to step forward and take on the challenge; he knew what he was doing and why and he was up for it."
The Army said it welcomed recommendations made in the report.