Mid Wales amateur referees resign over abuse at games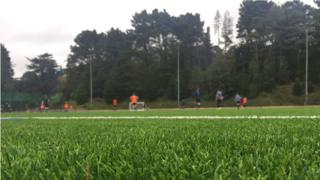 Five amateur referees have resigned from the Central Wales Football Association with six more "seriously considering" their resignation.
Referees in mid Wales said it was because of the level of abuse directed towards them during games.
It has also caused a shortage in referees at games at grassroots-level.
The Football Association of Wales (FAW) said all involved were encouraged to "respect the referee".
Aled Jones, from Aberaeron, has 12 years' experience in refereeing and said he was now hardened to some of the abuse he received, yet felt it had recently worsened.
"I can report foul language and abusive behaviour, but that isn't the case for my family sitting in the stands," he said.
"I was refereeing a game where a player was sent off. He then went over to my wife and child and started shouting abuse at them. My nine-year-old daughter was in tears. That is unacceptable."
With 84 referees needed to cover all Central Wales Football Association affiliated competitions each weekend, it is expected fixtures will have to be cancelled.
Assistant referees officer for Montgomeryshire, Ali Nicoll, said the season started with "all bar one of their newly-qualified referees resigning".
Mr Nicoll said: "Losing referees due to abuse is avoidable."
But he added: "The number of refs will get worse before it gets better. It could take five seasons for the shortage to be rectified."
The FAW said it was concerned at the loss of referees reported by the Central Wales FA.
A spokesman said: "We are working hard to increase refereeing numbers through a more modern recruitment process, but the FAW also recognises that retention of existing referees is equally as important as recruiting new officials."
There has been a proactive attempt in recent years to financially reward clubs with the best fair play records to reduce any on-field and off-field abuse.
There are also provisions within FAW disciplinary regulations for people to report foul and abusive language from spectators.