Man sentenced for 'abhorrent' sexual assault on girl, three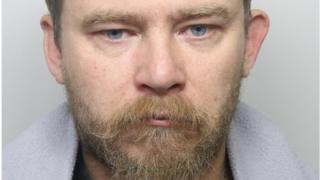 A 38-year-old man has been handed a 15-year sentence for sexually assaulting a three-year-old girl.
Trevor Vinson, from Tumble, Carmarthenshire, pleaded guilty to the offence at Swansea Crown Court on Monday.
Police had found images of him abusing the girl on his computer and mobile phones.
Vinson faces a six-year extension to the term if he violates his license conditions on his release.
The court heard how the "traumatised" girl worked with specialist police officers to provide evidence, with it described as a "particularly sensitive and difficult" case.
"As a family we have been rocked to the core," her parents said in a statement.
"It has impacted every aspect of us physically and mentally, leading us to second guess every decision we have ever made in regards to our own parenting.
"We would never have knowingly put our children in danger and will never forgive the deceit and breach of trust that has led to this."
Det Insp Elaine Bendle called it "a highly unusual case", with specially-trained officers working with the young girl to gain information on what happened.
She called the crimes "abhorrent", adding: "I must commend the detectives, digital crime investigators, police officers and staff who worked tirelessly to bring Vinson to justice."