A44 crash victim's family seeking compensation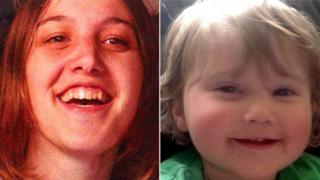 A family is seeking more than £300,000 compensation for two children whose mother was killed in a crash three years ago.
Alison Hind, 28, from Llanidloes, and three relatives died in the crash with a tanker on the A44 in Powys in 2014.
Her daughter Holly, then aged 18 months, survived.
Compensation is now being sought for Holly, now five, and Ms Hind's other child Ethan, three. A writ has been issued at the High Court in London.
Ms Hind's uncle Martin Pugh, 47, and his partner's parents Margaret, 65, and John Kehoe, 72 - all from Llanidloes - also died in the collision.
The family were travelling back from a day at the seaside when the Ford Focus Mr Pugh was driving collided with the fuel tanker near Eisteddfa Gurig on 17 June 2014.
Holly was pulled alive from the wreckage and airlifted to the University Hospital of Wales, Cardiff.
The writ claims the crash happened during a "momentary lapse of concentration" by Mr Pugh.
It accuses Mr Pugh of negligence, and says he lost control of his car, drove head into a tanker, drove recklessly or carelessly, drove too fast, failed to keep a proper look out, and failed to brake or swerve to avoid the collision.
It said the insurers have admitted liability for the accident but the two sides are unable to agree a settlement, and are asking the court to decide.