Pair locked up for blackmailing teenager in Newtown, Powys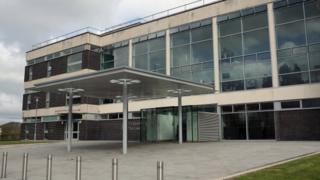 A man and a 17-year-old boy have been locked up after a teenager was blackmailed and threatened with a knife over a £10 drugs debt.
Nathan Bryce, 22, of Newtown, Powys, and the youth pleaded guilty to blackmail and demanding money with menaces, at Mold Crown Court.
Bryce also admitted possessing a craft knife in a Newtown street.
Judge David Hale sentenced Bryce to 20 months in prison and the youth to a six month detention and training order.
Restraining orders were made not to approach the victim.
The judge said that the offence was serious, and it had been a very frightening experience for the victim, who was 15 at the time, as Bryce had held the knife towards his neck.
In a victim impact statement, the boy said he had been left petrified by the incident and feared repercussions.
He had difficulty sleeping and no longer went out to socialise at night.
'Slice throat'
The court heard the victim had been in a flat in the centre of Welshpool when the defendants arrived looking for him.
When they saw him, Bryce said words to the effect of "Where's the tenner?"
The victim said that he did not owe him any money. He did owe £10 to somebody else but he said he said he would not be giving them the money.
The court was told as he was talking to Bryce, the younger defendant grabbed him around the throat, squeezing hard and restricting his breathing, while pushing him up against the wall.
The youth then made the victim empty his pockets to see if he had anything else of value that they could take.
Bryce then took out the knife again and held it to his throat, saying: "You will give me the money or I will slice your throat" before the victim managed to push him away.