400 Ysgol Penglais pupils in detention over uniform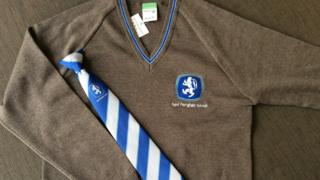 More than 400 pupils at a comprehensive school in Aberystwyth were given detention on their first day back for breaking school uniform rules.
The uniform was changed at Ysgol Penglais over the summer, following a consultation.
But a number of parents have complained to the school and some 250 have signed a petition saying the punished pupils were "treated unfairly".
Ceredigion council said a large number of pupils were kept in at break times.
The new uniform was brought in for the start of the new academic year, with the old navy blue pullover and white polo shirt replaced by a grey v-neck jumper, white shirt and a tie. Sixth formers have a similar outfit.
It is compulsory for all pupils in years 7 and 12 to wear the new uniform, with other students being given the rest of the year to buy it.
This was outlined in correspondence sent to all parents over the summer months, which also stipulated what trousers, skirts and shoes would be deemed acceptable.
But the petition said the new rules were not clear enough and that the pupils should not have been punished for their parents' mistakes.
It also said a warning should have been given before the detention.
One parent said pupils were taken to one side after assembly by teachers and given a yellow detention paper.
"It's totally absurd," she told BBC Wales' Cymru Fyw website.
"My friend's child received a detention slip because she wasn't wearing her school jumper. But she was wearing the correct shirt and tie.
"In my child's case, she was lucky, because she had her jumper in her bag, otherwise she also would have been punished.
"A number of my other friends are also unhappy because their shoes were said to break the rules. They'd bought the leather version of a popular shoe, Vans, thinking that they would be ok because it wasn't said in the correspondence that they wouldn't be.
"But by tonight, a note has come from the school stating clearly that they are not acceptable. It's not fair."
'Ensure consistency'
Ysgol Penglais is not the only school in Ceredigion to crack down on school uniforms in the new academic year.
Parents at Ysgol Penweddig in Aberystwyth were also sent letters in the summer reminding them of the school uniform policy. In it, it states that the school "is keen that all pupils wear the same kind of trousers, in order to ensure consistency throughout the school".
It is understood a number of pupils at the school received a warning on their first day back that their uniforms did not conform with the rules.
A spokesman for Ceredigion council said: "A number of pupils at Ysgol Penglais were kept in during break times for not complying with school uniform rules. None of the pupils were kept after school hours.
"No pupils at Ysgol Penweddig were detained, but teachers did emphasise the expectations of the school for all pupils to adhere to the school uniform rules.
"The Education Authority has not instructed schools to tighten their school uniform rules. However, the authority is backing schools in their insistence that school uniform policy is followed correctly following a full consultation process."