'Fake police officer' tackles speeding Ceredigion drivers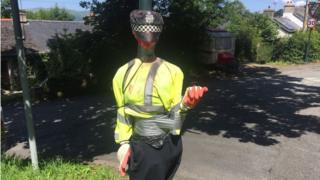 A "fake police officer" has been positioned near a Ceredigion village to try and stop cars speeding through it.
The mannequin - complete with a hat and luminous jacket - was placed on the A487 near Tre-Taliesin, where the speed limit drops from 40mph to 30mph.
Nigel Callaghan, who lives in the village, said a resident took action after becoming fed up with motorists.
Despite the mannequin being moved and having items taken from it, he said it has had "an effect" on car speeds.
Mr Callaghan added: "The local community were concerned with people speeding down the hill, with a bus stop and children crossing nearby.
"So, one local person came up with this idea of a fake police officer."