Pepper Pot New Quay lighthouse campaign 'gathers support'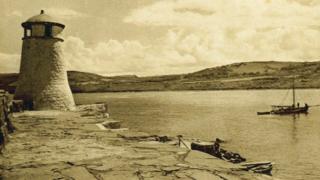 A campaign to rebuild a Ceredigion lighthouse destroyed by storms in 1937 is attracting support, a councillor has said.
The "Pepper Pot" was built in New Quay in 1839 and was rebuilt after storm damage in 1859, but was destroyed again nearly 80 years later.
New Quay councillor Dan Potter has been drawing up plans to restore the pier, which he says looks "tired".
He said the lighthouse could be used to monitor the area's dolphins.
Mr Potter admits rebuilding the lighthouse would be difficult solely with public money - but believes there is enough support locally for crowdfunding to cover costs - and he hopes the project could gain heritage funding.
"Where there's a will there's a way," Mr Potter said.
"All we want to achieve is what we have had in the past. We have lost so much."
Mr Potter said plans were drawn up in the 1980s to rebuild the lighthouse and, while funding may be achievable via supporters and grants, the project would also need planning permission.
He added it could benefit the area, because if equipment already used in the water to monitor and listen to dolphins could project the sound into the lighthouse, this could attract tourists.
"The village wants it back because it was there years ago and New Quay should be one of the most beautiful harbours on the west Wales coast," he said.
"But it's gone to look so tired and if we don't put these ideas forward we won't achieve anything."