Couple awarded for more than three decades of fostering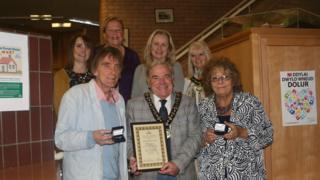 A couple from Powys who have fostered 35 children over the past 34 years have received an award for their work.
Gina and Roy Lynch from Knighton were presented with a Silver Kite award from Powys council in recognition of their long service.
The couple, who have six birth children, began fostering in 1982 and provide placements mainly for teenage boys.
Mrs Lynch said she was "very proud" of their achievements.
"We're very proud to have served the children of Powys. Seeing them move on, grow up and do well... it makes us very proud. We think we've done something really worthwhile."