Wetherspoon Aberystwyth garden shuts amid bird issues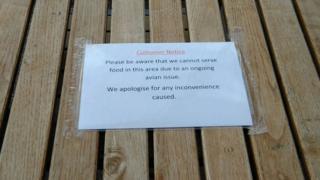 A Ceredigion pub has stopped serving food in its outdoor area due to concerns over birds.
JD Wetherspoon put signs on its outdoor tables in the Aberystwyth branch alerting customers food would not be served due to "ongoing avian issues".
The pub chain wants to build a solid roof to protect the area from birds, which can become trapped in the mesh roofing, prompting health concerns.
A spokesman said the presence of pigeons had dropped since the food ban.
The area of netting around the roof was also due to be increased to keep the birds away.