Maesgwastad Cemetery lock broken in Welshpool parking row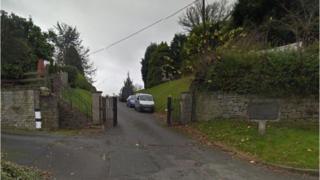 A lock on gates at a Powys cemetery to stop motor homes blocking the entrance has been forcibly removed with people continuing to park there.
Powys council started to lock the gates at Welshpool's Maesgwastad Cemetery because of unauthorised parking.
Hearses had not been able to exit and enter for funerals.
The council said the gates were locked with three vehicles inside earlier this month, but by the next morning the lock was removed and the vehicles gone.
The incident was reported to Dyfed-Powys Police, and details of vehicles locked in the cemetery will be passed to the officers if the gates are forced open again.
John Powell, cabinet member for cemeteries, said: "It is extremely disappointing that the security lock has been forcibly removed and will have to be replaced.
"We have had incidents where motor home-type vehicles have parked within the cemetery for several days without moving.
"Hearses have struggled to enter and exit the cemetery on days when a funeral is taking place because cars have parked along the edge and on the turning circle while mourners are having to park a considerable distance away due to nearby residents parking at the cemetery."