Work begins on shut Fedw-llwyd bridge near Beguildy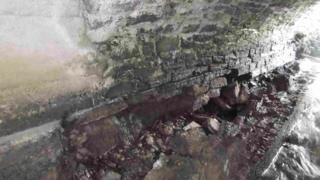 Work to repair a damaged Powys bridge which was closed over safety fears has begun.
Fedw-llwyd bridge on the B4355 between Knighton and Beguildy has been shut for two weeks.
Powys council said engineers found problems with the structural integrity of the bridge.
John Brunt, cabinet member for highways, said: "Everything is being done to re-open the bridge on this stretch."
The first phase will see strengthening work carried out downstream of the bridge to allow it to reopen to single-file traffic as soon as possible.
The council said the bridge would reopen "as soon as possible," but work depended on favourable weather conditions.