Bishop's St Winefride Church survey u-turn 'disappointing'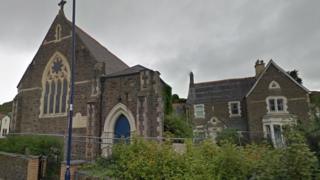 A bishop has "gone back on his word" over granting a surveyor access to a church in Ceredigion to see if it can be renovated rather than demolished, a council has said.
Bishop of Menevia Tom Burns agreed to a survey of St Winefride's Church, Aberystwyth, at a town council meeting.
But the council said the independent surveyor it appointed as agreed was denied access.
The bishop was away and not able to comment when asked by BBC Wales.
Bishop Burns told the council he wished to demolish the Victorian Catholic church to build flats, some of which could be used as social housing, raising funds for a new church in Penparcau.
He said Rome's refusal to open the church meant his hands were tied.
'Difference of opinion'
But the council asked whether it could look into the possibility of renovating the church so it could be retained for community use and Bishop Burns agreed.
A statement from the council said: "It is very disappointing that the Bishop of Menevia has gone back on his word to allow a Town Council-led independent survey to take place.
"In light of the strong difference of opinion between parishioners who want to retain a renovated St Winefride's in the town centre, and the diocese in Swansea, who want to demolish St Winefride's, the bishop agreed to a survey."
A report from Carmarthenshire council conservation said the diocese would be unlikely to get permission to demolish the building without "convincing evidence" effort had been made to sustain existing uses or find new ones.
"The Secretary of State would not expect consent for demolition to be given simply because redevelopment is economically more attractive to the developer than the repair and reuse of a historic building," it said.
Responding to BBC Wales' requests for comment, a Diocese of Menevia spokeswoman said Bishop Burns was away on business in London this week.