Murder accused 'did not want to fight' soldier Matthew Boyd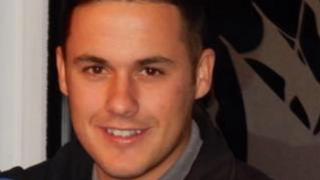 A man accused of murdering a soldier on a night out in Powys has told a court he did not want to fight the man.
Pte Matthew Boyd, 20, was off-duty in the barracks town of Brecon when he was allegedly attacked by Jake Vallely.
Mr Vallely, 24, of Brecon, told Cardiff Crown Court Pte Boyd started to fight with him after he got into an argument with his friend Aaeron Evans.
Mr Vallely denies murder. Mr Evans, 23, also of Brecon, denies manslaughter.
Pte Boyd, who served with the Royal Gibraltar Regiment, was on his way back to his barracks when he was found unconscious by police in the early hours of 15 May.
Mr Vallely told jurors he and Mr Evans were sheltering from rain in a doorway when Pte Boyd threw a pint glass near them.
An argument broke out between the three men and Mr Vallely said Mr Evans and Pte Boyd started to "push and shove" each other.
Mr Vallely claimed he intervened and separated the pair but Pte Boyd punched him to the back of the head.
He told the court he gave chase to "grab him and ask him what the hell he was doing - I didn't want to fight him".
He said Pte Boyd started to fight with him "because he thought I would start on him, he obviously thought I was going to throw a punch but I was going to shout at him basically".
"It was a scuffle, we were holding each other throughout. He went to the floor and had hold of me.
"I didn't kick him. I was shouting to say 'let go' and I punched him until he did so I could get away from him."
Mr Vallely told the court he "panicked because I thought I'd hurt him. I don't know how he was when I left him, I don't know if he was unconscious or not".
Mr Vallely said he was worried when he saw the area cordoned off later and sent a text message to a friend saying: "I literally only hit him once or twice after he'd swung for me".