Powys council's £75k fine after boy nearly drowned at pool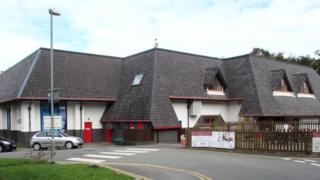 Powys council has been fined £75,000 after a boy nearly drowned during a swimming lesson while instructors were talking.
Four-year-old Evan Davies, who could not swim, was found unconscious underwater at Bro Ddyfi Leisure Centre in Machynlleth on 24 November 2014.
His father raised the alarm and he was pulled from the water and revived.
Powys council admitted breaching health and safety regulations at Swansea Crown Court.
Simon Parrington, prosecuting, said Evan's father Gryffydd Rhys Davies arrived at the pool to collect him but could not see him amongst other children taking part in a three-minute free play session.
He went to the side of the pool where he spotted him lifeless and underwater.
The lifeguard who should have been watching over 21 children had left his post to lay lane markers for the next group, and the instructor was talking to fellow teachers and had her back to Evan, the court heard.
He was pulled from the water but he was not breathing and his lips had turned blue.
Another parent revived Evan and he was taken to Bronglais hospital.
A Health and Safety Executive investigation found Powys council did not do a risk assessment for the free play periods and an alarm button could not be reached by lifeguards without them climbing down from their post.
The court heard the pool was well staffed but teachers had allowed themselves to be distracted during free play which actually created higher risks to the children than organised programmes did.
"The play session was to last only a few minutes but it takes seconds for a child to drown," added Mr Parrington.
Richard Lynagh, representing Powys council, said the classes had been running for 14 years without any incident or any concern being raised. They were later cancelled.
Judge Geraint Walters said the lack of effective supervision was the main cause of the near tragedy, but there had also been systematic failures in not carrying out a proper risk assessment.