Powys sex slave-plot stalker Robin Gomes jailed for 10 years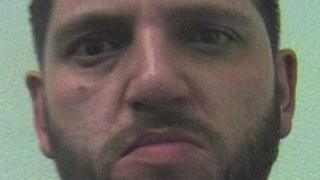 A stalker has been jailed for 10 years over a plot to kidnap and keep a woman as his sex slave.
Robin Gomes, 33, broke into the woman's house in Powys with a plan to "chain and cage her" after the pair began chatting on Twitter.
She confronted him with a rifle and it went off as he wrestled it from her hands just before the police arrived.
Gomes, of Caversham, Berkshire, admitted stalking and intent to commit a sexual act at Cardiff Crown Court.
The court heard office worker Gomes developed "sadistic fantasies" about the woman after striking up the online relationship.
They eventually met in person for a night together in Bristol but the woman, 31, told him she did not want a romance.
Bombarding messages
Gomes then developed a plan to kidnap, enslave and rape the woman, the court was told.
Prosecutor Phillip Warren said: "He claimed he was her master and she his slave.
"He said she was an object to him, something to be trained and used properly and she wasn't allowed to object to them having sex."
Gomes began bombarding her with abusive messages accusing her of sleeping with other men.
He eventually found out where she lived and began turning up at her countryside home to tell her he loved her.
Despite being given a harassment warning and being charged with stalking, Gomes went to her house again in July 2014.
The victim grabbed a hunting rifle from her gun cabinet, dialled 999 and barricaded herself in her bedroom when she heard Gomes break through the front door.
When he reached the landing she tried to fire the gun at him, but had left the safety catch on and he lunged at her, grabbing the weapon.
Gomes pushed her into her bedroom and on to her bed, before the gun went off and fired through a pillar in the room.
He told her she "needed to be taught a lesson" - but police burst into the home and arrested Gomes as the woman was left "crying uncontrollably."
Gomes later admitted being a sexual sadist who "found sexual gratification in the suffering of a partner", and went to the woman's home to "stop her misbehaving."
Trudi Yeatman, defending, said Gomes suffered from both personality and delusional disorders but had "improved" his behaviour since the attack.
Judge Michael Fitton said: "You wanted to chain and cage her. You admitted you would have raped her if necessary.
"Yours was a planned offence with sadistic excitement of inflicting fear into your victim."