Former Ysgol Bro Sion Cwilt head struck off register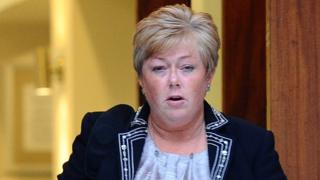 A former Ceredigion head teacher who used her school's Christmas card money to pay for her children to visit Ireland has been banned from teaching.
A disciplinary committee in Cardiff found Helen Hopkins acted dishonestly in claiming research money from Llandysul's Ysgol Bro Sion Cwilt's funds and leaving IOU notes.
It ruled her actions amounted to unacceptable professional conduct.
She is banned indefinitely, but can apply to reregister after two years.
Mrs Hopkins has the right to appeal against the order to the high court.
Mrs Hopkins admitted taking cash but denied her actions amounted to unacceptable professional conduct and denied taking it for personal use.
She also took money collected at the school's eisteddfod which was meant to pay for cards and books.
The Education Workforce Council hearing said it could not prove she had acted dishonestly in giving IOUs for personal use.
Panel members also could not prove dishonesty in relation to her taking the book money or the eisteddfod collection.