Former Ceredigion head acted dishonestly, committee says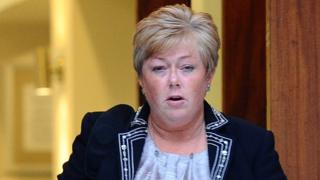 A former Ceredigion head teacher acted dishonestly in claiming research money to pay for her two children to visit Ireland, a disciplinary committee has said.
The Cardiff hearing said Helen Hopkins "claimed for amounts she knew she wasn't entitled".
They also said she acted dishonestly in taking Christmas card money for personal use.
Mrs Hopkins denies her actions amounted to unacceptable professional conduct.
She has admitted taking cash from the Christmas card fund at Llandysul's Ysgol Bro Sion Cwilt - leaving IOUs in its place.
She also took money collected at school's eisteddfod, meant to pay for cards and books.
She admitted leaving IOU notes in the school cash box, but denied taking it for personal use.
The Education Workforce Council hearing said it could not prove she had acted dishonestly in giving IOUs for personal use.
They also could not prove dishonesty in relation to taking the book money or the eisteddfod collection.
A decision about whether her behaviour in the proven issues amounted to unacceptable professional conduct will be made following legal arguments on Thursday.
The hearing continues.