Council says 'dangerous' Powys farms need urgent work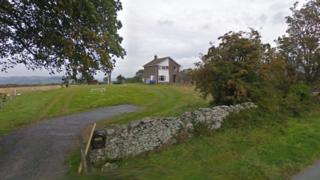 Powys council will invest £500,000 per year to fix the "dangerous maintenance backlog" on the county's tenanted farms.
Surveys found "a significant health and safety risk" to tenants on Powys's farm estate, which covers 146 properties over 11,400 acres (4,613 hectares).
Urgent electrical work, the replacement of failed drainage systems, and asbestos removal is recommended.
The total cost of all the suggested work is £7.65m.
Not all the work is critical.
Hazardous fibres
The council said: "There was concern that there had been under-investment in the estate for several years and the condition of the farm buildings was deteriorating.
"The potential consequences of a lack of action are many, ranging from the inability of the estate to attract high quality new entrants to, in extremis, death."
They say asbestos is present on almost all farm estate properties and is "showing signs of delamination", the process where hazardous fibres are released.
The surveys also suggested structural works costing £2.4m and roof works costing £1.05m should be completed over the next two years.
Powys Council has agreed that a further report should be carried out into the long-term funding of their county farms estate which will be published in January.