Powys council reveals proposed Machynlleth traveller sites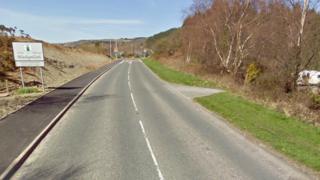 Three potential locations for a Gypsy and traveller site in the Powys town of Machynlleth have been revealed.
The authority delivered a presentation to the town council on Monday - earmarking possible sites at Felingerrig, Craig Yr Henfford, and an existing Newtown Road site.
Officials said five other locations have been ruled out for planning issues - including flooding risks.
The preferred option is expanding the current cemetery car park site.
Machynlleth is one of three areas across Powys deemed to need a travellers site to meet rules set out by the Welsh Government.
An assessment carried out last year found sites were also required in Brecon and Welshpool.
But Machynlleth has been described by Powys council "as an immediate or urgent need".
Objections
Backing the cemetery car park site, the authority said it had no adjoining properties, and had a family living on site for many years with "few issues".
The presentation to the town council said development at Felingerrig on Newtown Road faces "strong objection from residents adjoining" and would also require costly excavation.
The Craig Yr Henfford site was described as being in a 60mph zone, with limited services and greater walking distances to local amenities.
County officials said the cemetery car park location remained "our most favoured site".
No final decision has been taken, and any development would still need a planning application to be approved.