Miriam Briddon: Family hand in drink-drive petition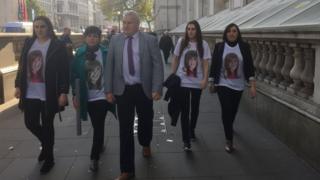 The family of a woman killed by a drink-driver have presented a 110,000-strong petition calling for tougher jail terms to 10 Downing Street.
Gareth Entwhistle admitted causing the death of Miriam Briddon, 21, by careless driving in Ceredigion while under the influence of alcohol.
His five-and-a-half-year jail term was cut on appeal.
The Ministry of Justice (MoJ) said it would launch a consultation on driving offence sentences.
Miss Briddon, from Cross Inn near New Quay in Ceredigion, was driving on the A482 in March 2014 when her Fiat Punto was hit by a Volkswagen Golf being driven by Entwhistle.
Entwhistle, of Ciliau Aeron, was jailed in October 2015, but his term was later cut by six months.
Her family's petition has gathered almost 110,000 signatures since it was launched in August - crossing the 100,000 threshold required for the UK government to consider a debate on the matter.
Miss Briddon's mother, Ceinwen Briddon, told BBC Wales her family were upset Entwhistle would only serve half of his sentence.
"We feel that, in a way, is an insult to Miriam's life and there is no justice at all in that," she added.
The family say it is not very often offenders receive more than two years' custody for this kind of offence, despite sentencing guidelines suggesting they can receive between one and 14 years.
They want drivers who kill to be hit with a more serious charge, a minimum sentence of 10 years and no early release.
They presented their petition to 10 Downing Street on Thursday.
A spokesman for the MoJ said: "This government is determined to make sure sentencing fits the crime for those who kill or cause serious injury on our roads.
"We will launch a consultation on driving offences and penalties by the end of the year."