£300k for Aberystwyth-Carmarthen railway line study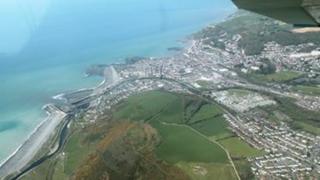 A feasibility study into reopening a railway line between Aberystwyth and Carmarthen has been allocated £300,000 in the Welsh Government's budget.
The original line stopped at more than 20 stations, but was closed in 1965.
Campaigners hope to re-establish a 90-minute service between Aberystwyth, Lampeter and Carmarthen and while many stretches could be reused, some new routes would be needed.
The cost has been estimated at about £500m.
A train journey without the proposed route takes about six hours, via Shropshire, Newport and Cardiff - and only about 90 minutes by car.
A spokesman for campaign group Traws Link Cymru said: "This is the breakthrough we've been waiting for.
"Reopening the railway would bring social, cultural, and environmental benefits, and would provide an economic stimulus to west Wales.
"It would help alleviate transport poverty in the region, provide a safer form of transport, be a significant boost to tourism, and lead to improved connectivity."