Apology after wrong body taken to funeral in Llangadfan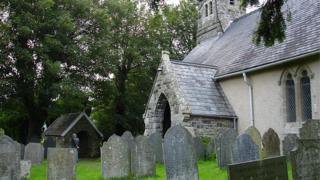 An undertaker has issued an apology after the wrong body was taken to a funeral in Powys.
The error meant mourners sat through the full service at St Cadfan Church, Llangadfan, on Friday before the error was detected.
It was only noticed when flowers were removed from the casket at the grave and the wrong name was on the plaque.
R G Peate Funeral Directors of Welshpool apologised for "the genuine mistake".
The funeral was able to continue when the caskets were swapped and the correct body was buried.
Funeral director Geraint Peate said: "Having provided a caring service to the bereaved of this community for over 40 years without a single adverse incident I am personally devastated by this event.
"It was obviously deeply distressing for the family, to those attending the funeral and also to myself and my staff who were present."
Friends and family of the dead person told Radio Cymru's Post Cyntaf the mistake was like "something out of a film" and were "deeply shocked that such a thing had happened".