Investigation into Powys schools' bus subsidy payments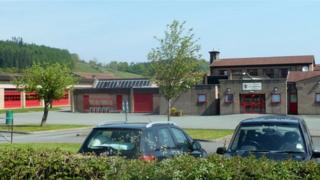 An investigation will be carried out into Powys schools that subsidised transport for pupils from outside their catchment area.
Powys council officials will look into payments made by Llanidloes High School and Ysgol Bro Hyddgen in Machynlleth.
A cabinet meeting on Tuesday heard Llanidloes subsidised the cost of bussing pupils from Newtown, paying £62,000 between 2011 and 2016.
Ysgol Bro Hyddgen paid to transport 11 pupils from Dolgellau this year.
The investigation relates to payments made from the schools' delegated budget - given to head teachers by the council and meant to be spent on education of pupils and not to subsidise home-to-school transport.
This comes after it was revealed Llanfyllin High School spent more than £500,000 over a five-year period on home-to-school transport from outside its catchment area.
Ysgol Bro Hyddgen subsidised the cost of a minibus for the pupils, but the exact sum paid out is unclear.
Both schools are now receiving parental contributions towards the transport costs and Llanidloes school said it would be fully compliant with the council's policy by the start of September 2017.
A council report said Llanidloes High School had been providing transport on one route from Newtown for at least 10 years, with 31 children using the service in 2015-16.
Parental contributions have risen from £80 per term before December 2015 to £100 per term.
The report said Ysgol Bro Hyddgen did not previously ask for a parental contribution towards the cost of transport, but it now charged £60 per term.